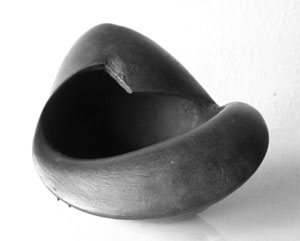 Wolfgang Ueberhorst, SKULPTUR Nr. 1 (1996)
"Schlafende Muse" (Bronze)
Since 1996 the sculptor Wolfgang Ueberhorst and I have been having a "conversation", each in his own artistic area.
As an initially open-ended project, this "conversation" was planned to last for several years. Wolfgang Ueberhorst had begun with the creation of a bronze sculpture to which I reacted in terms of sound and music with a piano piece ("Skulptur I" / "Sculpture Number I"). He in turn replied to this piano piece with a further bronze sculpture, which inspired me to the next piano piece ("Skulptur II" / "Sculpture No. II"). And so on . . .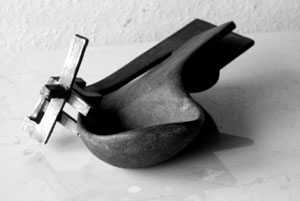 Wolfgang Ueberhorst, SKULPTUR Nr. 2 (1999)
"La reine et la clef" (Bronze & Silber)
The agreed "rule" was not to divulge the title (or where appropriate the sub-title) of the sculptured and musical creations to each other. Our reactions to and interpretations of each "reply" were to happen without discussing the ideas and intensions behind it. The dynamics of the process were to be solely dependent on the visual and audible impact.
From this beginning overlapping intellectual interrelations emerged which extended far beyond the purely visual and audible and which cannot be explained by purely formal affinities or sensed analogies. Each "reply" embodies meditative reaction to and progressive exploration of the forces which both unite and separate music and visual art, a concept which perhaps cannot be defined more clearly.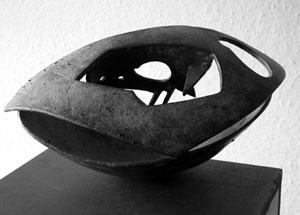 Wolfgang Ueberhorst, SKULPTUR Nr. 3 (2001)
"Gawagai" (Bronze)
After nine years and five "sculptures" by each of us, we both felt that we had reached a natural end of the project. However since each piano piece actually has two bronze sculptured partners – a stimulating one and a reactive one (which equally applies conversely: to each bronze sculpture there are two musical partners) – Wolfgang Ueberhorst created a last sculptured reply in the year 2007.
It seems to me – partly because the "piano sculptures" have a cyclic nature – that there is a definite continuity in their musical dramaturgy. Additionally, the five pieces together last for over an hour, which in a complete performance fills a whole evening.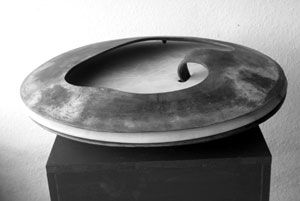 Wolfgang Ueberhorst, SKULPTUR Nr. 4 (2003)
"Nascita di una idea" (Bronze & Alabaster)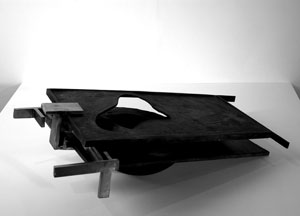 Wolfgang Ueberhorst, SKULPTUR Nr. 5 (2005)
"Klangkörper" (Bronze & Edelstahl)
What fascinated us both in this exchange was the feeling of reaching audible and sculptured results which in form and content would not have been possible without this non-verbal "dialogue".
Thus, for instance, my five piano sculptures all embody a plasticity which is not represent to such an extent in my other works. The physical movements required of the musician by the music text during the performance themselves become part of the individual piece. The performance of "Skulpturen" is an act of spacial and sculptural thought.
For me personally the work on this cycle was a renewed, albeit modified investigation of the phenomena space and time. A sculpture accentuates the surrounding space, as sound sets the air in vibration. And as music with its acoustic nature is part of and occupies space, so does a sculpture occupy space with its physical form.
A sculpture is presented to the observer only in its spatial entirety, due to its three-dimensional nature. It becomes a whole in the intellect only after observervation from all sides.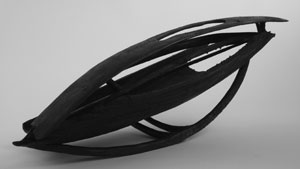 Wolfgang Ueberhorst, SKULPTUR Nr. 6 (2007)
"Barcarola" (Bronze)
Look also:
An excerpt from a conversation with the artist Wolfgang Ueberhorst
By Arturo Eskuchen
Sounds can suspend the time into which they are injected and in which they spread, depending on how they give form to the time. But the listener can never experience the piece as a whole in one moment. Only his memory assists him to later understand what he has heard as a whole.
Michael Denhoff
Skulptur I op. 76, 1 (1996) / ca. 15'
UA 1997 in Köln
Birgitta Wollenweber, piano
Skulptur II op. 76, 2 (1999) / ca. 8'
UA 2002 in Bonn
Martin Tchiba, piano
Skulptur III op. 76, 3 (2001) / ca. 16'
UA 2002 in Bonn
Martin Tchiba, piano
Skulptur IV op. 76, 4 (2003) / ca. 15'
UA 2003 in Ahaus
(Kompositionsauftrag der Stadt Ahaus
zum 300. Schloßkonzert)
Martin Tchiba, piano
Skulptur V op. 76, 5 (2005) / ca. 10'
UA 2006 in Wachtberg-Niederbachem
Susanne Kessel, piano