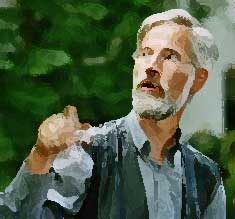 M i c h a e l D e n h o f f
was born in 1955 in Ahaus, Westphalia. He made first composition attempts with ten years and received decisive impulses by Günter Bialas. Since 1973 he studied cello with Siegfried Palm and Erling Blöndal-Bengtsson, composition with Jürg Baur and Hans Werner Henze, and chamber-music (as a member of the Denhoff Piano-Trio) with the Amadeus Quartet.
From 1976 to 1980 he was awarded a stipend from the Studienstiftung des deutschen Volkes.
Denhoff taught theory of music at the University of Mainz from 1984-85. He lives at present as freelance composer and cellist in Bonn, where he conducted the Akademischen Orchester from 1985-92 and has been a member of the Ludwig Quartet since 1992. In 1996 began a close co-operation as cello-piano duo with the pianist Birgitta Wollenweber.
Further to this he is often called to give courses in chamber-music and composition, as, for example, from 1997-99 as visiting professor at the National Music Academy of Hanoi (Vietnam). Since 2008 he teaches chamber music at the Robert Schumann University in Düsseldorf.
For his compositional œuvre he has been the recipient of many prizes (amongst others: 1st prize at the Hitzacker and Bergisch-Gladbach composition competitions, prizes from the cities of Stuttgart and Dortmund and the regions North Rhein Westphalia and Lower Saxony, the Bernd-Alois Zimmermann-Prize and most recently the Annette von Droste Hülshoff Prize). A Villa Massimo stipend made possible a study-residence (1986-87) in Rome, in 1996 he was awarded a further stipend ("Villa La Collina") in Cadenabbia.
A considerable number of CD's document his extensive output.
In 2000 Michael Denhoff organised "Jahr100KlavierStücke", a series of 50 workshop-concerts designed by him together with the pianist Susanne Kessel, given in Bonn and dedicated to a chronological review of the piano music of the 20th century.
In 2008 he initiated in Bonn the musical-literary series "WortKlangRaum".